Product Overview
Epson® Perfection® V850 Pro
Color Scanner
The pro-quality scanner with advanced control to archive film and photos.
Professional-quality color and detail — get unparalleled scans with advanced optics
Remarkable tonal range and shadow detail — Provides smooth gradations and fine shadow detail
Advanced optics — high-reflection mirror and anti-reflective optical coatings ensure minimum optical distortion
Wetmounting via Optional Fluid mounting tray — Provides an optimum optical capture of your film, decreased surface defects of film minmizing the need for touchup.

Epson's exclusive Dual Lens System — automatically selects from two lenses for optimum results based on the media being scanned
ReadyScan® LED light source — for fast scans with no warmup time required
Greater productivity — batch scan multiple slides, negatives, medium- and large-format film with two sets of film holders (included)
Do more with your film and photos — SilverFast®SE PLUS and X-Rite® i1Scanner color management software included for added versatility and control
Precision film scanning — includes two sets of anti-Newton ring film holders; Aztek Recommends use of the specialized fluid mount option available on purchase

Epson
®
Perfection
®
V85
0 Pro Color Scanner
T
ype:

Flatbed color image scanner
Photoelectric
Device:

Alternative 6 lines color Epson
Ma
trixCCD
®
Optical
Resolution
:

Epson
Dual Lens System 4800 dpi and 6400
dpi
Maximum Hardware
Resolution:

4800 x 9600 dpi, 6400 x 9600
dpi with Micro Step Drive
™
technolog
y
Epson Scan with Easy Photo
F
ix
®
technolog
y
LaserSoft
Ima
ging
®
SilverFast SE PLUS
X-rite i1Scanner with reflective/transparent IT8
targets
Windo
ws
®
10,
Windows 8
– 8.1, Windows 7, Windows Vista
Windows
XP,
Windows XP
Professional x64 Edition
Mac
OS
®
X 10.6.x
– 10.10.x
19.8" x 12.1" x
6" Weight 14.6 lb
What's in the Box
Epson Perfection V850 Pro color scanner, 8" x 10" Transparency Unit (built into lid), Eight film holders: 35mm slides, 35mm film strips, medium format 6 x 20cm and 4" x 5" (two each), Film Area Guide, Scanner Software installation CD-ROM, LaserSoft Imaging SilverFast SE PLUS, X-Rite i1Scanner with reflective/ transparent IT8 targets, Setup poster, Hi-Speed USB 2.0 cable, AC adapter and power cord ** Note optional accessories on purchase, Fluid tray for wet mount scanning and scanner cover.

General
Reliability
MCBF: 100,000 

c

yc

les
Connectivity: Hi-Speed USB 

2.0
Operating 

T

emper

atur

e: 41° to 95° F (5° to 35° C)
Operating 

Humidity: 10-80%, no 

condensa

tion 10-85%, no condensation 

(stora

ge)
Rated 

Input Voltage: AC 100 

– 240V
Rated 

Input Frequency: 50-60 Hz
Rated Output 

V

oltage: DC 

24V, 1A
P

ower Consumption 

Operation 

23W Standby

Mode 12W Sleep Mode 

<1.5W Power Off 0.3W
W

arr

anty: One-year limited warranty in the U.S. 

and Canada
Ordering Information
Epson Perfection V850 Pro                              

B11B224201
Fluid Mount Accessory, Included from Aztek

      B12B818272



Fluid Mounting with the Epson

® 

Perfection

®   

V85

0 Pro Color Scanner



The KAMI Advantage
Improves Optical Quality of Film Scanning & is Easy & Safe to Use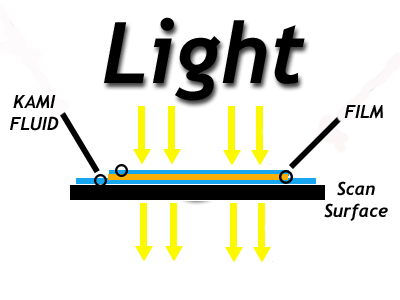 KAMI fluid has been put to test and is used by the most fastidious of scanner operators to capture the most from their film. The KAMI fluid acts as a medium in which allows the optimum path for light to pass through film and into your scanner's optics. The main issue with conventional dry scanning is scanning surfaces become detrimental in obstructing the light path during the scanning process. Light can stray not only between the film and scanning surface but diffract as light passes through the actual grain of the film. Unlike dry mounting Using the KAMI fluid will decrease the scattering effect of light as it passes through the film. Hence giving you noticeably clean scans without the annoying blooming or newton rings typically seen in conventional dry scanning..
Another advantage to using KAMI fluid is that there will be less need for touch up as the KAMI fluid will fill in imperfections of the film surface. Saving you valuable time and money. Using this method of scanning will also yield an increase in the apparent focus/sharpness. This is achieved by the inherent physics and properties of the KAMI fluid's surface tension and cohesion between the film surface and scanner surface. Film is held evenly and flat across the scanning surface to allow a completely even focal plan for scanning.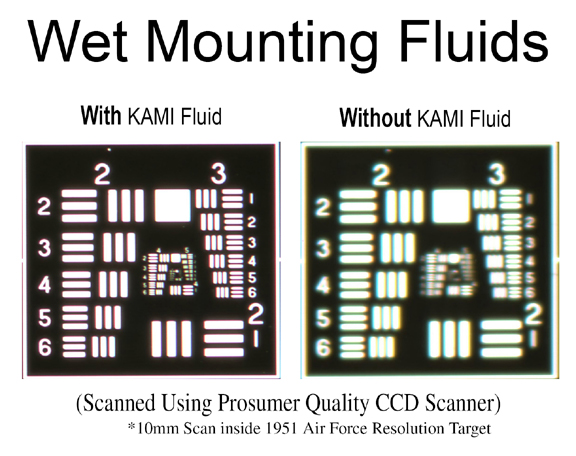 The above targets represent the dramatic optical advantages of the KAMI fluid on an Epson V750 scanner.
Reviews